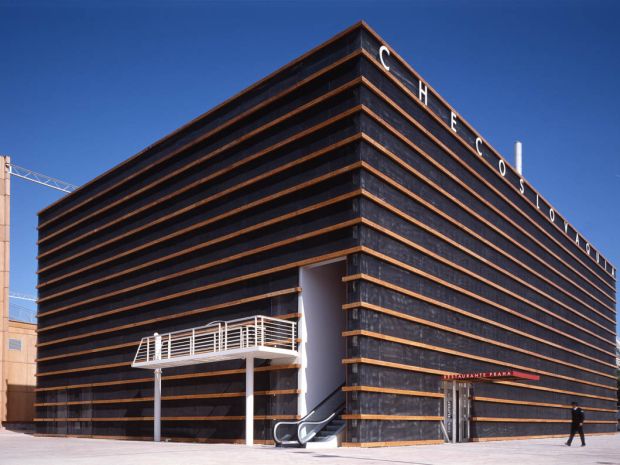 The Czechoslovak pavilion for EXPO 1992 in Seville was designed by Martin Němec and Ján Stempel. This was the last joint pavilion of Czechs and Slovaks.
"The appreciation by the jury for application of neo-functionalism in continuation of the beautiful tradition of our thirties was certainly just and harmonised not only with the long-term orientation of the authors but also with the generally felt need for a renaissance of Czech architecture by return to its proud origins." (Petr Kratochvíl - source: Czech Architecture 1989-1999)
The black wooden block of the pavilion, designed by architects of the ADNS studio, was designed to provoke with its austerity, responding with its inspired simplicity to the previous period of post-modernist plays with shapes. But as the originally proposed conceptual idea by the philosopher Petr Rezek was not eventually let in, for it appeared inappropriate to the approvers, the "tested" glass sculptures were moved in at the last moment.
Photo - Pavel Štecha