Architektura ve Vizovicích
Centrum modulární architektury ve Vizovicích je tvořivá dílna pro všechny fandy modulární výstavby a architektury, inovátory a všechny koho zajímá cyrkulární ekonomika ve stavebnictví.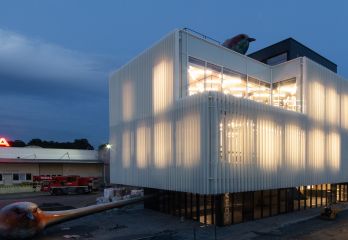 Původní česká firma KOMA MODULAR s.r.o. s více než 25-ti letou tradicí je specialistou na modulární výstavbu a má za sebou realizace po celém světě. Získala četná ocenění pro svůj inovativní přístup a technologie. V posledních letech se orientuje na vývoj nízkoenergetických modulů i architektonicky atraktivních návrhů.
In this field we cooperates closely with CHYBIK KRISTOF ASSOCIATED ARCHITECTS, a progressive young architectural studio with a number of interesting achievements and awards, and with established design studios like OLGOJ CHORCHOJ. We also provide an opportunity for young architects and designers who are inspired by modular architecture.