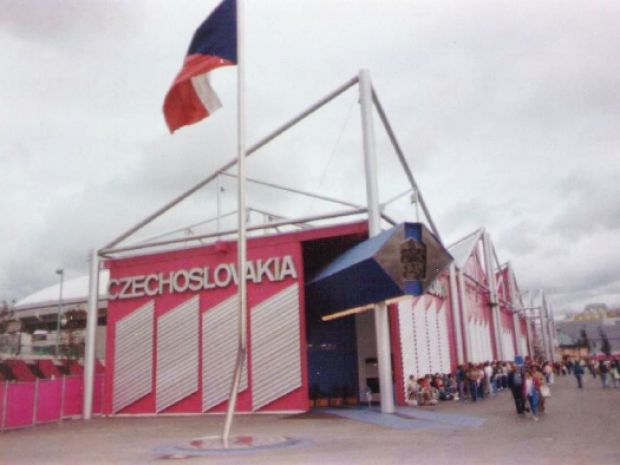 The exhibition was devoted to all modes of transport and communication among people. Czechoslovakia was widely represented at the exhibition. On the one hand the country had its own national pavilion and on the other Czechoslovakia was commissioned to built the official pavilion showing the history and future of transport.
The cultural programme at the exhibition featured, inter alia, Czechoslovak folklore ensembles Lúčnica and Konopa. The Czechoslovak pavilion was greatly successful at the Vancouver exhibition and people waited in long queues to get in. The exhibition was based on an audiovisual programme including for example a virtual sightseeing tour of Prague.
"We exhibited in our pavilion a wheel of an old railway engine with a diameter of 22 m. Long queues formed in front of the Czechoslovak pavilion, for both Canadians and Canadian Czechs wanted to see the extravagant exhibit. Zora Jandová sang songs to it swinging at the height of 10 m, which was another attraction of our pavilion. We were proud to show that even people from a small country are capable of big things." Memories of Petr Kostenko, a member of the implementation team.
(source: http://www.bedekr.cz/texty/563.html)