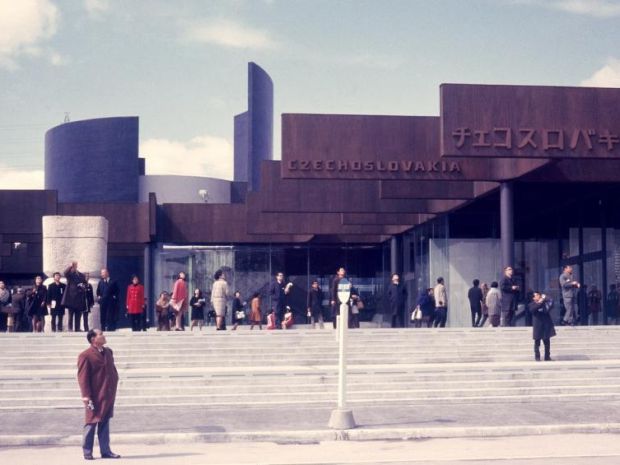 In contrast to Brussels and Montréal the Osaka exhibition was more minimal and more artistic. It was mainly due to the transparent architecture of the pavilion, but also due to the poetic scenario by Jan Skácel, best visualised by a couple of accents in the form of strong works of art.
The exhibition was designed as a single open space through which the visitor can walk freely. Architect Viktor Rudiš defined the principle of implementation with the words "monumental simplicity", in the context of which "open architecture predefines the mainly sculptural nature of the exhibits and excludes conventional exhibition solutions."
This exhibition was affected by the time in which it was held, coinciding with the Prague Spring of 1968 and the invasion of the Warsaw Pact armies to Czechoslovakia. The office of the general commissioner did not allow the authors of the pavilion to leave the country and so they never saw the finished pavilion in its setting. Some of the works of art selected for the exhibition were not allowed to be exhibited in the end, and the "normalised" governmental commission for exhibitions and the relevant department of the Ministry of Foreign Affairs issued a negative assessment of the exhibition after its closing, where the management of the pavilion was defined as a "centre of anti-socialist elements".
The structure of the pavilion was pulled down after the exhibition, the exhibits were sold across Japan, and not even the model of the installation survived.