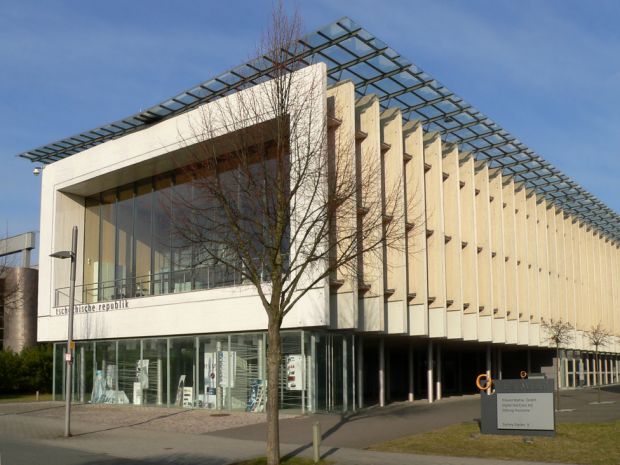 The structure of the pavilion consisted of wooden board frames suspended on steel pillars. The frames not only responded to the environmental theme of the exhibition but also fully used properties of the material for non-traditional structural design.
The exhibition featured copies of Gothic paintings by Master Theodorik, statues of Gothic Madonnas, St. Wenceslas' crown and a statue of Charles IV - copying part of our exhibition at Montréal EXPO in 1967, with the difference that in Canada the exhibited works were originals. This is just one of the circumstances lowering the standards of our presentation there. The hesitant impression could not even be improved by the concert by Karel Gott.
The destiny of the pavilion itself had a thrilling after-clap. The Czech Republic was bound to either clear the building of the pavilion after the exhibition or sell it together with the plot. The clearance would cost CZK 27 million. That is why the pavilion was offered for sale for the symbolic price of 1 German mark. At the last moment the pavilion was purchased by a German cosmetics company, which established its offices there. The company paid 27,000 marks to the Czech Republic for the building and 2.5 million marks for the plot. Thus about 30 million for pulling the pavilion down and removing it was saved from the Czech budget.