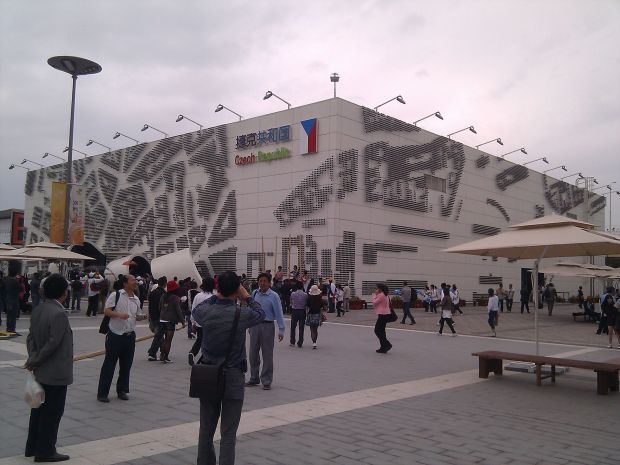 The Czech pavilion was "decorated" with a mosaic made of ice hockey pucks. The mosaic mimicked the ground plan of the Old Town Square in Prague, which corresponded to the theme of the exhibition, at the same time emphasising the Czech tradition of puck manufacture, connected with our national success in this sport.
The exhibition itself was awarded with a silver medal for its creative approach, for the first time again after Montréal in 1967. The main attraction of the exhibition was the Gold Teardrop by the Czech-Argentine artist Federic Díaz. Originally the whole drop was to have been made of gold, but the Czech National Bank eventually refused to lend one tonne of gold for this purpose, and so the drop was finally made of aluminium and just gilded.
The drop was placed in a glass cube where only one of every five hundred visitors could enter. When the visitor viewed the drop, his or her reactions and emotions were recorded for an automatic pipetting station to mix his or her personal fragrance from various essences on the basis of these emotions.
"When the session ended the visitor took home with him or her an ampoule with about one millilitre of fragrance expressing his or her current state of feelings. And when smelling the fragrance after a week, a month, a year, he or she should remember the moment," Díaz said, describing his work.
(source: http://www.ceskatelevize.cz/ct24/kultura/87663-zlata-slza-uz-muze-ukapnout-na-expo-2010/)